41st Nottingham Chess Congress
Report
GM Keith Arkell cruised through to win the Open by 1½ clear points. Marcel Taylor (Radcliffe & Bingham) won the Intermediate with the only other 100% score. Nathan Cragg (Ashfield) and Robert Cater (University) were joint winners of the Minor and Bernardo Pincheira (University) was immediately behind. Both students were playing their first ever adult event. The West Nottingham junior trio of Jonah Willow, Anita Somton and Adam Bennett were second in the Open, Major and Intermediate respectively.
Winners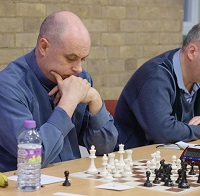 Keith Arkell
Open Winner
David Williams
Major Winner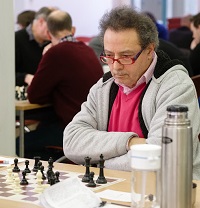 Marcel Taylor
Intermediate Winner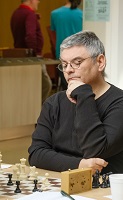 Nathan Cragg
Minor Winner
The entry was 168, a record for my time as Director, and consequently it was possible to increase the prize fund. It was a particular pleasure to welcome the return visit of a party from the Netherlands. They last came in 2005 when the congress was at Nottingham Forest.
There is as usual a long list thank you's - John Swain and Simon Scott for controlling, Chris Budd and Ann Graham for the catering, Brendan O'Gorman for the photos and the ever helpful High School staff. Also Hannah and Daniel Walker, and Chloe Budd for assistance with the refreshments - yes we shamelessly employ child labour. Lastly a very special thank you to Neil Graham, who will be hanging up his pairing board and retiring after 40 years of controlling the congress and rapidplay.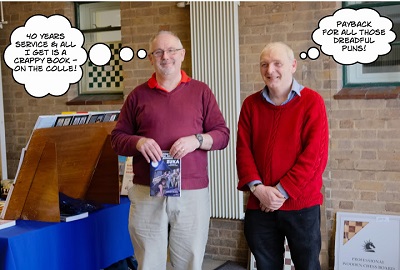 Pics
A photo gallery is available to view for the Nottingham Congress. These pics were provided by Brendan O'Gorman.
Results
Sections
Back to Top
Open
| Pos | Name | Club | Grade | Score |
| --- | --- | --- | --- | --- |
| 1 | Keith Arkell | Stourbridge | 243 | 5 (£250) |
| 2= | Ali Jaunooby | Manchester | 196 | 3½ (£45) |
| | Jeremy Fallowfield | Stourbridge | 194 | 3½ (£45) |
| | William Bennet | Melton Mowbray | E186 | 3½ (£45) |
| | Shabir Okhai | Syston | 186 | 3½ (£45) |
| | Jonah Willow | West Nottingham | 186 | 3½ (£45) |
| | Nicholas Arkell | Stourbridge | 177 | 3½ (U185 GP £50) |
| 8= | Michael Barnes | Gambit | 205 | 3 |
| | Jim Burnett | Mansfield | 197 | 3 |
| | Samuel Milson | Louth | 187 | 3 |
| | Anthony Hynes | Warwicks Select | 185 | 3 |
| | Jonathan Wells | North Norfolk | 185 | 3 |
| | Nick Savage | Ipswich | 183 | 3 |
| 14= | Peter Mercs | Gambit | 189 | 2½ |
| | Ad Reijneveld | The Netherlands | 189 | 2½ |
| | Nugith Jayawarna | Heywood | 180 | 2½ |
| | Daniel Broughton | Nottingham | 174 | 2½ |
| | Faraz Malik | South Birmingham | 164 | 2½ (U170 GP £50) |
| 19= | Clement Meunier | Solihull | 195 | 2 |
| | Robert K Taylor | Syston | 172 | 2 |
| | Mark Whitehead | Rochdale | 170 | 2 |
| | Michael Naylor | Gambit | 165 | 2 |
| | Matthew Wilson | Paignton | 155 | 2 |
| | Oliver Graham | Worksop | 154 | 2 |
| | Jacob Boswell | Cheddleton & Leek | 152 | 2 |
| | Tim Kendall | Nottingham | 144 | 2 |
| | William Lovell | The Hall | 135 | 2 |
| 28= | Alex Combie | Newark | 166 | 1½ |
| | James Goodhead | e2e4 | 162 | 1½ |
| 30= | Nathanael Paul | Newport | 177 | 1 |
| | David Walker | Kettering | 163 | 1 |
| | Richard Copier | The Netherlands | E156 | 1 |
| 33 | Shyam Modi | Leicester | 145 | ½ |
Back to Top
Major (U165)
| Pos | Name | Club | Grade | Score |
| --- | --- | --- | --- | --- |
| 1 | David Williams | Derby | 164 | 4½ (£200) |
| 2= | Alex Webster | Derby | 158 | 4 (£70) |
| | Richard Betts | Northwich | 155 | 4 (£70) |
| | Anita Somton | West Nottingham | 150 | 4 (£70) |
| 5= | Christopher Lewis | Newport | 160 | 3½ |
| | Jacques Tivallier | Mushrooms | 160 | 3½ |
| | Kevin Dalley | Derby | 158 | 3½ |
| | Graeme Jennings | Gambit | 155 | 3½ |
| | John Cawston | Yorkshire Terriers | 153 | 3½ (U155 GP £25) |
| | Onos Kofi-Ofuafor | Gambit | 147 | 3½ (U155 GP £25) |
| | John Huthwaite | Gambit | 144 | 3½ (U145 GP £50) |
| 12= | Karl Potter | Leicester | 164 | 3 |
| | Carl Gartside | Clay Cross | 160 | 3 |
| | David Patrick | Todmorden | 157 | 3 |
| | Henry Van Eeuwijk | The Netherlands | 152 | 3 |
| | Cok Ippel | The Netherlands | 150 | 3 |
| | Gunnar Mallon | Eccleshall | 145 | 3 |
| | James Thomson | Nottingham | 134 | 3 |
| | Sean Grenham | University | 115 | 3 |
| | Julian Cast | Long Eaton | - | 3 |
| 21= | Anthony Sadler | Solihull | 160 | 2½ |
| | Raymond Gamble | Spondon | 158 | 2½ |
| | Richard Desmedt | Wombwell | 152 | 2½ |
| | Brian Foreman | Syston | 152 | 2½ |
| | Nick London | Radcliffe & Bingham | 150 | 2½ |
| | Robert Taylor | Ashfield | 149 | 2½ |
| | Rob Warmerdam | The Netherlands | 144 | 2½ |
| | Jules Brown | Lincoln | 143 | 2½ |
| | Keith Roper | Gambit | 139 | 2½ |
| | George Murfet | Radcliffe & Bingham | 138 | 2½ |
| | Charles Grainger | University | 125 | 2½ |
| | Joseph Wright | University | 87 | 2½ |
| | Chris Evans | Banbury | 161 | 2 |
| | Robert Dean | Undercliffe | 156 | 2 |
| | Arthur Hibbit | Banbury | 156 | 2 |
| | Owen Hunt | University | 156 | 2 |
| | Dragoljub Sudar | Gambit | 156 | 2 |
| | Graham Ashcroft | Preston | 155 | 2 |
| | Glyn Ward | Loughborogh | 141 | 2 |
| | Athar Ansari | Newport | 139 | 2 |
| | Derek Simpson | Hemel Hempstead | 138 | 2 |
| 42= | Brendan O'Gorman | DHSS | 160 | 1½ |
| | Vincent Naan | Nottingham | 158 | 1½ |
| | Roger Greatorex | Llangollen | 146 | 1½ |
| | Amy Milson | Louth | 141 | 1½ |
| | Janos Wagenbach | Mansfield | 136 | 1½ |
| | Ben Pourmozafi | Syston | 135 | 1½ |
| 48= | Robert Clegg | Huddersfield | 158 | 1 |
| | Dean Hartley | Amber Valley | 151 | 1 |
| | Peter Wood | Hastings | 148 | 1 |
| | Nigel Morris | Leamington | 144 | 1 |
| | James Irwin | Lincoln | 139 | 1 |
| 53 | Anna Purvis | Surrey | 129 | ½ |
Back to Top
Intermediate (U135)
| Pos | Name | Club | Grade | Score |
| --- | --- | --- | --- | --- |
| 1 | Marcel Taylor | Radcliffe & Bingham | 129 | 5 (£150) |
| 2= | Sanal Susak | Spondon | 132 | 4 (£50) |
| | Adam Bennett | West Nottingham | 129 | 4 (£50) |
| | Julian Hawthorne | Kidsgrove | 118 | 4 (£50) |
| 5= | Robert Wallace | Melton Mowbray | 134 | 3½ |
| | Qais Karimi | Lincoln | 126 | 3½ |
| | Dylan Meyer | Rolls Royce | 124 | 3½ (U125 GP £40) |
| 8= | Brian Heath | Pontypool | E130 | 3 |
| | Peter Kaptein | The Netherlands | 119 | 3 |
| | Nigel Wright | Ashfield | 115 | 3 (U117 GP £10) |
| | Mike Hunter | West Bridgford | 113 | 3 (U117 GP £10) |
| | Paul Jackson | Lancaster | 112 | 3 (U117 GP £10) |
| | Andrew Sutton | Central | 112 | 3 (U117 GP £10) |
| | Bob Abrahart | West Bridgford | 90 | 3 (U117 GP £10) |
| 15= | Roy Woods | Spondon | 127 | 2½ |
| | David Dunne | Nottingham | 126 | 2½ |
| | Eugene Raby | Wellington | 122 | 2½ |
| | Ronald Harrison | Belper | 121 | 2½ |
| | Kevin Gallagher | Derby | 119 | 2½ |
| | Wiliam Orr | Horncastle | 109 | 2½ |
| 21= | Jon Asbury | Shirley | 131 | 2 |
| | Chris Fraser | West Bridgford | 127 | 2 |
| | Peter Gorecka-Marshall | Gambit | 126 | 2 |
| | Graham Gibson | Central | 124 | 2 |
| | Ian Farquharson | Melton Mowbray | 118 | 2 |
| | Neil Milson | Louth | 117 | 2 |
| | Paul Fischer | Lincoln | 116 | 2 |
| | Steven Luland | University | 116 | 2 |
| 29= | Barry Williams | Aughton | 132 | 1½ |
| | Rob Ensor | Gambit | 129 | 1½ |
| | Tom Dabner | University | 112 | 1½ |
| 32= | Shah Hussain | Derby | 114 | 1 |
| | Peter Hughes | Mutual Circle | 101 | 1 |
| | Nicholas Lees | Stamford | 99 | 1 |
| 35= | Stephen Wootton | Derby | 126 | ½ |
| | Ray Sayer | Ashfield | 116 | ½ |
| 37 | Michael Harper | Gambit | 121 | 0 |
Back to Top
Minor (U110)
| Pos | Name | Club | Grade | Score |
| --- | --- | --- | --- | --- |
| 1= | Nathan Cragg | Ashfield | 82 | 4½ (£125) |
| | Robert Cater | University | - | 4½ (£125) |
| 3= | Christopher Cox | Mercia | 107 | 4 (£20) |
| | Bernardo Pincheira | University | 106 | 4 (£20) |
| | Michael Foss | Woking | 92 | 4 (£20) |
| 6= | Alan Fraser | Beckenham | 106 | 3½ |
| | Nishchal Thatte | Kent | 82 | 3½ (U90 GP £20) |
| | Briony Tomkins | Northants Junior | 65 | 3½ (U90 GP £20) |
| 9= | Ian Barker | Worksop | 106 | 3 |
| | Leslie Fancourt | Derby | 106 | 3 |
| | Peter Brannan | Enigma | 105 | 3 |
| | Ronnie Watson | Gambit | 104 | 3 |
| | Cameron Funnel | University | 101 | 3 |
| | Eric McKenna | Sheffield Nomads | 99 | 3 |
| | Kevin Randle | Aughton | 96 | 3 |
| | Kenneth Marsden | Leeds | 93 | 3 |
| | Daniel Chen | West Nottingham | 92 | 3 |
| | Paul Doherty | Bolton | 91 | 3 |
| | Dorothy Blampied | Radcliffe & Bingham | 83 | 3 |
| | Scott Leadbetter | Birmingham Univ | - | 3 (Ungraded £40) |
| 21= | Herbert Loomes | Spondon | 101 | 2½ |
| | Paul Mottram | Melton Mowbray | 101 | 2½ |
| | Alaistair Mottram-Epson | Melton Mowbray | 101 | 2½ |
| | Peter Mottram-Epson | Melton Mowbray | 90 | 2½ |
| | Barry Fulthorpe | Leeds | 79 | 2½ |
| | Martin Gibson | Spondon | 69 | 2½ |
| | Daniel Arkell | Sourbridge | 68 | 2½ |
| | Stephen Faye | Mutual Circle | 62 | 2½ |
| 29= | Tony Larner | North Norfolk | 107 | 2 |
| | Ken Heath | Gambit | 79 | 2 |
| | Danavir Dhunna | Darkhorses | 58 | 2 |
| | Roy Wood | Eccleshall | 47 | 2 |
| | Max Dooley | University | - | 2 |
| | Adam Spencer | Nottingham | - | 2 |
| | Anna Szasz | Leeds Junior | - | 2 |
| | Daniel Waterhouse | University | - | 2 |
| 37= | Ian Morrell | Belper | 63 | 1½ |
| | Marios Spanos | Mutual Circle | - | 1½ |
| | Timothy Worrall | Chelmsford | - | 1½ |
| 40= | Manasi Mehtaa | Northants Junior | - | 1 |
| | Aneuran Tomkins | Northants Junior | - | 1 |
| 42 | John Light | Leeds | 82 | ½ |
| 43= | Nick Holmes | Telepost | 93 | 0 |
| | Jayne Mowson | Nomads | 31 | 0 |
| | Nethuli Saram | Dawpool | - | 0 |
---